September 3, 2018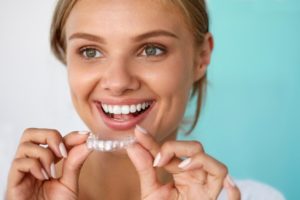 Invisalign is often associated with people trying to get a smile they're proud to show off. Fixing gaps in teeth and crooked smiles has never been easier and more convenient, but it's so much more than that. In fact, Invisalign in Downtown DC can improve your oral health in numerous ways.
In today's post, we'll go over the health benefits of Invisalign as well as provide a brief FAQ section to help people learn more about Invisalign!
What are the Health Benefits of Invisalign?
Straighter smiles are generally more attractive, but did you know that they're also easier to clean? When teeth are growing in different directions or naturally gapped, it's far easier for food particles to get caught in teeth. When food is stuck in teeth, oral bacteria begins to feed off of it an secrete plaque acids, leading to a higher risk of decay. Plaque acids can also attack the gums, leading to inflammation and gum disease. When teeth are straight, not only is food less likely to get stuck, but the mouth is far smoother and easier to brush and floss.
Additionally, crooked teeth are more likely to cause problems with the bite as neighboring teeth begin rubbing against each other when you chew. This in turn leads to uneven force applied throughout the facial area, including the temporomandibular joint, or TMJ. If the TMJ is stressed, it can lead to headaches, jaw pain, clicking and popping of the jaw and a generally lower quality of life. Orthodontic solutions like Invisalign prevent this before it can happen by realigning teeth into a more even bite.
What is Treatment Like?
Treatment requires consistent use of prescribed aligners, averaging about 20 to 22 hours per day of use. They'll need to be removed when eating, drinking fluids other than plain water and when practicing oral care. However, it's essential that they're worn for as long as possible to prevent interruptions in treatment.
How Long Does Treatment Take?
Treatment time largely varies from patient to patient not just based on the complexity of the orthodontic case, but also the amount of time spent wearing the aligners. On average, treatment time can take six to 18 months. If you want the fastest treatment possible, make an effort to wear aligners for as long as possible.
How Do I Care for My Trays?
Caring for your trays is as simple as practicing your traditional oral care routine. Just make sure to sanitize the trays every time you brush and floss. Use Invisalign's unique blend of cleaning crystals or a denture cleanser to sanitize them, then use a toothbrush to remove loose food debris and plaque.
Have more questions on how Invisalign can help you? Schedule an appointment with a cosmetic dentist in Downtown DC to learn more!
About the Author
Dr. Wanda Davidson earned her DDS degree from the University of Maryland College of Dentistry. Since then, she's taken numerous continuing education courses to provide patients the most up-to-date treatments in dentistry, including clear aligners. To learn more about her practice, you can contact her through her website.
Comments Off

on How the Benefits of Invisalign in Downtown DC are More Than Cosmetic
No Comments
No comments yet.
RSS feed for comments on this post.
Sorry, the comment form is closed at this time.