Invisalign for Crowded Teeth – Downtown Washington, DC
Giving Your Teeth the Space They Need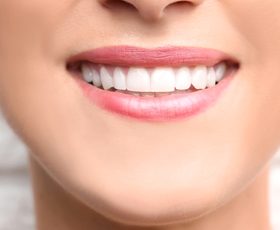 Crowded teeth are a common problem for many individuals. If you are one of the many who are unhappy with their smile because of teeth that appear too close together, you'll be happy to learn that at Davidson Dental, our team of dentists can use Invisalign in Downtown Washington, DC to repair and improve your smile. Using clear aligners that offer a more subtle approach to orthodontic treatment, your teeth will gently shift over time, creating necessary space and giving you a more uniform, healthy smile. Learn what you can do to get started with Invisalign by contacting our office today.
What Can Happen if Crowded Teeth are Left Untreated?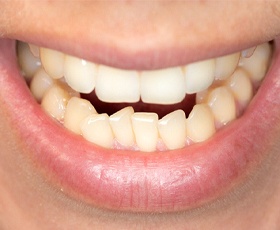 If the idea of tooth decay, cavities, gum disease, or a misaligned bite don't sound like much fun then you'll want to go ahead and start looking into ways to treat your crowded teeth. Inadequate space leads to difficulties brushing and flossing, both of which are designed to remove harmful bacteria and food particles that can cause decay to develop.
Without proper treatment, your teeth will begin to worsen over time, causing cavities to form as well as gum disease. Not to mention that when teeth erupt into areas of the mouth that don't have enough space, your natural teeth will shift in an effort to make room. The problem with this is that your bite will be thrown off, leading to chronic jaw pain and excessive wear on your teeth.
How Can Invisalign Help Treat Crowded Teeth?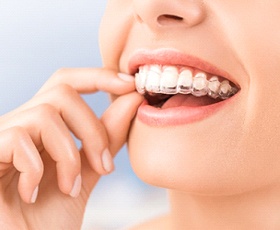 By opting for Invisalign treatment in Downtown Washington, DC, you will be setting yourself up for beautiful results that showcase a healthier, more properly aligned smile. Invisalign uses clear aligners to gently move your teeth in the right direction, creating necessary space and better aligning your smile.
Once you complete a consultation with one of our highly-skilled and trained dental experts, you will have impressions taken of your smile, which will be sent to a dental laboratory. There, technicians will begin to work on creating your individualized trays, which you will use throughout your treatment plan. After a few weeks, you will return to our office to receive your customized aligners and begin using them.
It is necessary that you wear your trays at least 20-22 hours a day to ensure there is no delay in treatment. You should only take them out when eating, drinking, or cleaning them. It will be necessary to wear your aligners for two weeks at a time before swapping them out for the next set in the series. You will also be responsible for keeping your dental appointments with us every 6-8 weeks to ensure everything is progressing as it should.
Wearing Invisalign does require an added level of commitment, so before you agree to treatment, you should be committed to the process. Otherwise, it will not work.
The average timeline for wearing Invisalign is considerably less than if you were to receive treatment with traditional braces but can vary from patient to patient.