Dental Implants — Washington, DC
The Modern Way to Replace Missing Teeth
Your natural tooth is composed of two important components – the white, attractive crown that everyone's familiar with, and the root hidden beneath the gum line. The root is a well-kept secret, but it provides essential stimulation and support to your jawbone. Traditional tooth replacement options only bother with replicating a lost tooth's crown, which is good for aesthetics but not ideal for the patient's continuing oral health or quality of life. The bone will gradually deteriorate over time, and many of these patients end up with a "hunched" facial appearance over time. That's why Davidson Dental Associates strongly recommends dental implants!
Dental implants on K Street seamlessly replicate every part of a natural tooth, starting with the root for an enduring foundation. They're beautifully lifelike, highly durable, and will last for many years to come. Please contact us today to schedule your first implant consultation.
Why Choose Davidson Dental Associates For Dental Implants?
Dental Insurance Accepted & CareCredit Financing Available
Entire Dental Implant Treatment Performed In-Office By Dr. Davidson
Permanently Replace Any Number of Missing Teeth
What Are Dental Implants?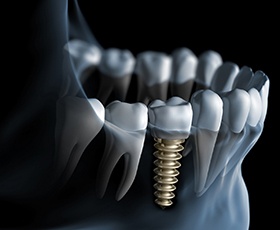 Dental implants are made up of three main parts: the dental implant post, the abutment, and the final restoration. The dental implant post is inserted directly into the jawbone where the missing tooth once was to replace its roots. This is what fundamentally sets dental implants apart from dentures and dental bridges. Instead of resting on top of your gums or relying on your remaining teeth, dental implants fuse with your jawbone to create a strong, comfortable foundation for your new smile.
On top of the dental implant post is a small connector piece called an abutment. It securely attaches the final restoration to the post and holds it in place. The final restoration could be a crown, bridge, or denture depending on the extent of your tooth loss. In the end, rebuilding your missing teeth from the roots up with dental implants gives you a smile that looks, feels, and functions just like natural!
A Convenient Dental Implant Process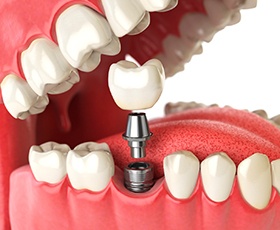 Because of her advanced training in implant dentistry, Dr. Davidson and her team can perform every step of this transformative process right here in our Washington, D.C. office – minimizing the added costs and inconveniences of traveling to outside specialists. You can undergo the whole tooth replacement journey with the dental professionals you trust!
Benefits of Dental Implants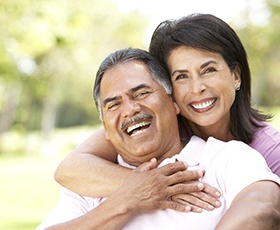 There are many reasons why dentists are calling dental implants the gold standard of tooth replacement. Consider the most common reasons below as you consider which treatment is right for you:
Independent of Natural Teeth: Since the implant post is strong enough to hold teeth on its own, you can avoid having to remove existing tooth enamel. If you suffer from dramatic tooth loss and want to maintain as much natural tooth as possible as well as reduce teeth sensitivity, dental implants may be a more ideal option.
Durable and Reliable: Dental implants are the only tooth replacement option that lasts between 25 years and a lifetime when properly maintained. This cannot be said for dentures or bridges, which require replacement every decade or less on average.
Beautiful Aesthetics: All crowns, bridges, and dentures used to restore dental implants are made from porcelain, ensuring that no one around you will be able to tell the difference between your natural teeth and dental implant.
No Special Care Required: Dental bridges and dentures can be notoriously difficult to clean and maintain, but dental implants are designed to be cleaned just like natural teeth. You can also eat all the foods you enjoy, including steak, apples, and nuts!
Who Dental Implants Can Help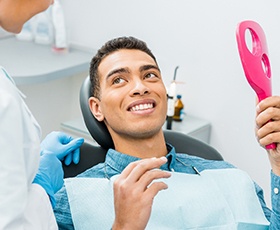 No matter how many teeth you've lost, dental implants are able to recreate the appearance and feel of a full mouth of natural pearly whites.
Missing 1 Tooth
If you have lost a single tooth, our team can seamlessly replace it with a dental implant. After the implant has been surgically inserted into the tooth's original socket, patients will undergo a period of healing. During this time, the natural tissue and bone will form around the biocompatible implant, creating a sturdy foundation for the restoration. Finally, Dr. Davidson will design an all-ceramic dental crown to fit over the implant. The tooth will be fully restored, and natural teeth nearby will not be harmed by this process.
Missing Multiple Teeth
Have you lost multiple teeth? If so, an implant bridge could be the best choice for replacement. Our team will place dental implants on either side of the space and then (once they've healed) attach the custom-made restoration over them for an attractive and strong result. Dr. Davidson prefers this reconstructive method to traditional bridges, which require healthy teeth to be filed down to accommodate dental crowns that work as the "anchors" instead.
Missing All Teeth
Implant dentures, like their traditional counterparts, are designed to replace a significant number of missing teeth. This type of prosthetic is more cost-effective than replacing each tooth with its own personal implant, as it will only require a small number of placed implants to anchor the full denture in place. Hybrid dentures are permanently fixed within the mouth so that they function just like natural teeth; alternatively, patients may prefer overdentures, which are designed to maintain the convenient removability of traditional dentures.
Missing All Teeth with Low Jawbone Density
One of the biggest requirements of undergoing dental implant placement is that there needs to be a healthy amount of bone in the surgical site. Unfortunately, patients who have been experiencing tooth loss for several years may discover that they fall short of this goal. Thankfully, our office offers mini dental implants as a successful alternative. Like the name implies, mini dental implants are simply a miniature version of the traditional implant, and they can be placed in much shallower areas of bone structure to support implant dentures.
Understanding the Cost of Dental Implants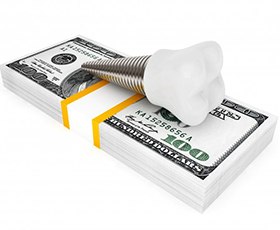 Receiving dental implants requires multiple steps, including one or more oral surgeries. For this reason, they often cost more than traditional options. That said, they could actually end up saving you money in the long run. Dentures and bridges have to be repaired or replaced every 5-15 years. Think of all of the money (and time) you'll save after a few decades that you would have otherwise spent on getting your teeth fixed. Most of our patients who have rebuilt their smiles with dental implants have gone on to say that they were worth every penny!
Dental Implant FAQs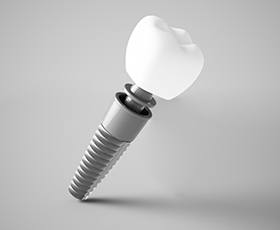 Dental implants in Downtown Washington, D.C. are a great solution to permanently replace your missing teeth. As a nearly perfect replica of your natural smile, they are a great investment; however, it's normal to have a few concerns before you're ready to commit to them. We understand your apprehensions, which is why we take the time to thoroughly explain the process. In the meantime, here are the answers to a few of the most common questions patients ask us about dental implants.
Can I Get Dental Implants If I Have Gum Disease?
Gum disease is a preventable infection; however, it's the leading cause of tooth loss. If you've lost a tooth or two from the infection, you won't be a candidate for dental implants if your oral health is still compromised. The long-term success of your new smile relies on a healthy foundation and remaining infection-free. As a result, you'll need periodontal therapy to treat the infection before your placement surgery.
Will I Need a Bone Graft to Get Dental Implants?
Besides periodontal therapy, some patients need bone grafting before replacing their missing teeth. You must have adequate bone density in your jaw to support your titanium implant posts long-term. Bone grafting thickens areas of your jaw that are weakened. Not all patients require bone grafting, but it's common for those who have had advanced gum disease or missing teeth for several years. Although it adds another step to your treatment, it's essential to ensure your bone fuses to the posts correctly. We'll review a CT scan of your jaw during your initial consultation to determine if you need bone grafting before replacing your lost teeth.
Can Dental Implants Fail?
Dental implants are the most reliable solution to treat tooth loss; however, they can fail. Generally, the risk is less than 5% if you care for your new smile properly. The most common cause of dental implant failure is from a preventable infection called peri-implantitis. You can help prevent infection by committing to your oral hygiene at home and visiting your dentist at least twice a year for a cleaning and checkup. If you develop any concerning symptoms between your routine visits, don't hesitate to contact our office, like redness, swelling, or pain.
Am I Too Old for Dental Implants?
If your jawbone has finished developing, there isn't an upper age limit for dental implants on K Street. Instead, we consider other factors when determining your candidacy for the procedure, such as your oral and general health. There are certain medical and lifestyle factors that can increase your risk of complications. As a result, we'll conduct an extensive consultation to ensure dental implants are the right choice for you.
Can I Use My Dental Insurance to Pay for Dental Implants?
Every policy is unique, but most plans can be used to help offset the cost of the treatment. Many times, you'll be able to use your coverage to lower the amount you need to pay for certain steps in your plan, like periodontal therapy, sedation, or restorations. We'll maximize your annual benefits to reduce your out-of-pocket expense to keep a complete smile within your budget.