Invisalign® Clear Braces – Downtown, DC
A Beautiful Way to Achieve Alignment
Have you dreamed of correcting your misaligned, gapped teeth, only to settle for the status quo instead when you think about wearing noticeable metal braces for months or years on end? Dr. Davidson understands how important your polished look is to you, and she wants to help you maintain it while also achieving the beautiful smile improvements you deserve.
At Davidson Dental Associates, we offer the perfect solution: Invisalign clear braces. Like the name implies, this orthodontic treatment will reposition teeth in a pleasingly subtle and convenient fashion. Contact us today here in Washington, D.C. to schedule your first consultation.
How Invisalign Works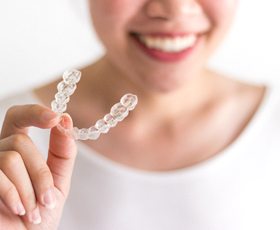 Instead of traditional braces with metal brackets and wires, Invisalign is a series of clear plastic aligning trays that are designed to gradually shift your teeth into place. Each set of aligners brings you one step closer toward your ideal smile. The aligners are worn for at least 20 to 22 hours a day, and each set is worn for about two weeks. After, you'll move on to the next in the series, shifting your teeth in the process. Unlike braces, you won't have to come into our office for frequent visits. However, routine checkups every 6 to 8 weeks are necessary to ensure that your treatment is going as planned.
These aligners will be custom-fit for your unique mouth, crafted from comfortable plastic, and easily removable. This means that you will be able to take them out when eating and practicing oral hygiene at home – no inconvenient changes to your routine required.
Indications for Invisalign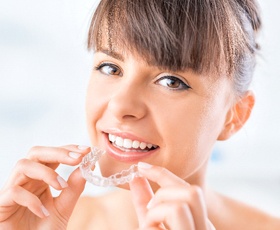 At Davidson Dental Associates, we use Invisalign to treat mild to moderate orthodontic issues. You may be a candidate for Invisalign if you have these common indications:
Crowded Teeth
Do you have teeth that are too close together? This not only affects your appearance, but it makes it harder for you to properly care for your smile. Crowded teeth make it easier for plaque and bacteria to build up, leading to a higher risk of tooth decay and gum disease.
Learn More About Invisalign for Crowded Teeth
Spaces Between Teeth
Gaps in your smile may be unattractive, but they also can be the perfect home for plaque and food debris. That's why many people with gapped teeth suffer from bad breath and higher risks of tooth decay.
Bite Alignment
Problems like overbite, underbite, and crossbite can put extra stress on your jaw, leading to pain and dysfunction. However, it can also cause unnecessary wear and tear to certain parts of your smile, leading to cracked, broken, or worn-down teeth.
Benefits of Invisalign Clear Braces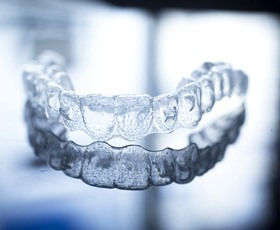 We offer Invisalign clear braces because they can correct the above issues all while providing patients with these benefits:
Appearance: While Invisalign isn't completely invisible, you can wear your aligners in your professional and social lives without anyone noticing!
Comfort: Made of smooth, clear plastic, Invisalign will never cut or irritate the inside of your mouth like traditional braces.
Speed: On average, Invisalign treatment takes about a year's time, which is shorter than braces.
Lifestyle: Completely removeable, Invisalign allows you to eat all of your favorite foods without worrying about debris getting caught or breaking your metal brackets and wires.
Cost of Invisalign Clear Braces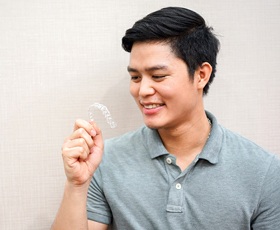 The cost of your Invisalign treatment will depend on a variety of factors like the severity of your misalignment and how committed you are to keeping up with the process. The best way to get a better idea of the cost of your treatment is to call our office for a consultation. One of our experienced dentists will carefully examine your smile before developing your personalized treatment plan, including a more precise price estimate.
Does it sound like Invisalign is right for you? Contact our office today to take your first step toward a beautiful, confident, and straight set of teeth.
Invisalign FAQs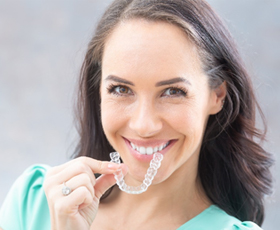 If you are considering Invisalign in Downtown, you may have many questions about this method of treatment. While traditional braces are often the most common and frequently talked about form of orthodontics, Invisalign is quickly becoming a popular alternative to the metal bracket and wire setup. As you begin to learn more about this subtle, more flexible option, our team at Davidson Dental Associates have compiled some frequently asked questions about Invisalign for you to review. Should you have additional inquiries about treatment, we invite you to contact our office to schedule a consultation.
How is Invisalign different than mail-order teeth aligners?
There are a few ways Invisalign is different than those mail-order aligners you see promoted on TV:
Your treatment is closely monitored by a dental professional, whereas, a mail-order system is really up to you.
The trays you receive are customized according to your smile using advanced technology and equipment. Unfortunately, with many mail-order solutions, you are expected to use a cold dental putty to capture impressions in the hopes your trays will fit correctly.
The Invisalign process is much safer and will not damage your teeth or bite like mail-order aligners can.
How should I care for my aligners?
You can opt to buy the Invisalign Cleaning Crystal solution, or you can use a toothbrush, clear soap, and lukewarm water to remove dried saliva and bacteria from your trays. A few tips to remember when cleaning your aligners are to:
Rinse them after you take them out
Use a soft-bristled toothbrush
Soak your aligners each day in a denture cleaner or the Invisalign Cleaning Crystals system
Make sure you brush and floss your teeth before reinserting your aligners, as this will prevent any food particles from transferring from your teeth onto your trays
Why is it necessary to wear my trays for 22 hours a day?
The reason we suggest wearing your aligners for 22 hours a day is that your teeth will need the gentle pressure of the aligners to move them in the right direction. Although you will achieve faster results with Invisalign, it still takes time for your teeth to shift, so having continuous pressure aides in the process. You should only ever remove your trays when you're eating, drinking, or cleaning them. If you attend a special event, you may choose to remove your aligners during this time; however, they should be reinserted immediately afterward.
Will I need a retainer once I'm finished with Invisalign?
Yes, you will need to wear a retainer once you are finished with Invisalign treatment. Here's why: Teeth are a lot like elephants in that they do not forget. If there isn't something holding them in place, they will transition back into their original spot. To prevent this from happening, we will ensure your teeth remain in their new location by having you wear a retainer.
In the beginning, you may need to wear it all the time; however, after several months, it may only be necessary for you to wear it at night while you are asleep. Our team will go over how and when to wear it in order to achieve the greatest results.