Invisalign® Clear Braces Improving Downtown Washington, DC Smiles
Straighten Your Smile
Have you dreamed of correcting your misaligned, gapped teeth, only to settle for the status quo instead when you think about wearing noticeable metal braces for months or years on end? Dr. Davidson understands how important your polished look is to you, and she wants to help you maintain it while also achieving the beautiful smile improvements you deserve.
At Davidson Dental Associates, we offer the perfect solution: Invisalign clear braces. Like the name implies, this orthodontic treatment will reposition teeth in a pleasingly subtle and convenient fashion. Contact us today here in Washington, D.C. to schedule your first consultation.
How Does Invisalign Treatment Work?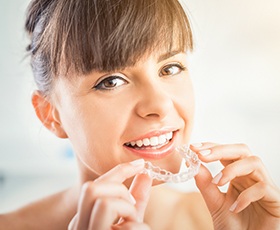 Instead of wires and brackets, patients will be provided with a series of clear aligners, each one representing a different stage of their tooth movement. These aligners will be custom-fit for their unique mouth, crafted from comfortable plastic, and easily removable. This means that patients will be able to take them out when eating and practicing oral hygiene at home – no inconvenient changes to your routine required.
Although Invisalign clear aligners are not completely unnoticeable, their presence will likely be missed by most people you see in a day. Plus, while every case is different, patients will most likely be finished with treatment in under two years.