September 13, 2018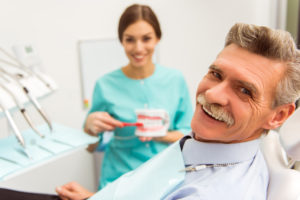 Looking for a great dentist in downtown DC? Knowing what questions to ask ahead of time can save you a lot of homework. You want to know about office location, the dentist's credentials, and fee structure/coverage options. You should also consider whether the location is a good fit for both your needs and the needs of your household.
One Size Does Not Fit All
Modern dental science is light years ahead of the profession as it existed in the past. Today's patients have access to higher-quality care and more options than ever before. That being said, getting the most value for your healthcare dollar means matching the services provided to your particular situation. Here are some examples of what we mean:
Households with no small children can, in many cases, get by just fine with a general dental practitioner. This is especially true if the patient has healthy teeth and gums and no chronic medical conditions.
Skills like cosmetic dentistry are designed to treat a special class of patients, such as persons with aesthetics concerns. If the practice you're considering focuses on these forms of therapy, then you may be paying for services you'll never need.
Anyone who has spent time in DC knows that downtown is a densely packed urban environment. This makes it important to consider location and accessibility factors.
Remember that Dental Health Needs Can Change Over Time
Getting older is a fact of life. As we age, many of us develop new health conditions and concerns. It's crucial to keep this fact in mind if you plan to live in DC for an extended time. For example, dentures or dental implants may be the last thing on your mind right now. But will this still be the case a few years down the road?
If you're unsure of how to proceed, then you may want to consider a practice that offers a variety of treatment options. For example, an office with multiple dentists might offer services ranging from basic checkups and cleaning to advanced options like implants, veneers and denture fitting. Choosing one of these practices is a great way to get all of the care you need without the trouble of expensive and time-consuming referrals.
Why Not Have a Meet and Greet?
Once you've narrowed down your choices, you may want to drop by the clinic and meet the staff in person. Bring your health plan information with you so the office manager can verify that the location accepts your coverage. If possible, introduce yourself to the dentists and their assistants. Get a feel for the overall environment and ask any questions you may have.
Davidson Dental is one of the metropolitan area's leading providers. It offers a full range of dentistry services, ranging from basic care to cosmetic dentistry in downtown DC. Call or drop by soon to find out more about what we offer. Whichever office you ultimately choose, we wish you nothing but bright smiles and happy days in the months and years to come.
About the Author
Dr. Julian Gapud is a graduate of Howard University School of Dentistry. He completed his residency training at Bronx-Lebanon Medical Center and has been on the staff at Davidson Dental for three years. You can reach his office online or by calling (202) 775-0022.
Comments Off

on One Size Does Not Fit All
No Comments
No comments yet.
RSS feed for comments on this post.
Sorry, the comment form is closed at this time.