March 6, 2019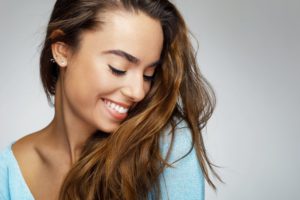 You're fed up. The stained and discoloration on your teeth is enough to make you swear off photos in the future, but you know that isn't a possibility. You're tired of not having a smile you can be proud of, but you don't know what to do about it. Maybe it's time to talk to your dentist about a cosmetic solution. You might be surprised to know teeth whitening on K Street or porcelain veneers are two viable options that can help you. Read on to learn more about these teeth improvement solutions.
Porcelain Veneers
These thin, wafer-like coverings fit beautifully over your tooth, giving it a natural look and feel. Blending in with your smile, others will never know you've had treatment. If you have any of the following imperfections, your cosmetic dentist on K Street may recommend porcelain veneers:
Gaps between teeth
Stain or discoloration
Minor misalignments
Chipped or cracked teeth
Covering the surface of your tooth, your dentist will need to remove a bit of enamel to make sure the veneer adheres to the tooth properly. Once it is in place, you can expect a beautiful smile. Here are a few benefits to this treatment option:
Quick and easy fix. Most porcelain veneer placements take only a few visits to the dentist office.
Low-maintenance. You treat your veneers just like you would your regular teeth. Maintaining a good oral hygiene routine will ensure your veneers stay in excellent condition.
Fixes multiple issues. Only if your dentist believes you're a good candidate can veneers serve multiple purposes. Stained teeth? Porcelain veneers can keep your smile shining bright. Crooked choppers? If the misalignment in minor, veneers are an excellent way to straighten teeth.
Teeth Whitening
Another great solution is Zoom! teeth whitening. If you're tired of dealing with messy strips or gels you can buy over the counter, this tooth whitening solution may just be for you. Having a brighter, healthier smile will give you the confidence you need. Since teeth whitening only addresses stains and discoloration, here are a few reasons your teeth may be stained, resulting in your decision to choose this type of cosmetic solution:
Smoking and tobacco use
Small cracks in your teeth that trap food
Teeth grinding
Just like veneers, there are benefits to having your teeth whitened:
Fast and easy. Zoom! Teeth Whitening will have your teeth looking 6-10 shades brighter after 90 minutes.
Easy at-home maintenance. Your dentist can provide a take-home kit to be used for touch-ups as you maintain your whiter smile.
Effective. Whitening treatments performed by your dentist use professional gels and tools, allow for a more effective treatment than over-the-counter drug store kits.
If you're unhappy with your smile, stop settling for less or wasting your money on ineffective whitening methods. Talk to your dentist today about a cosmetic solution that's right for you. By discussing the treatment options, timelines, and benefits of veneers and teeth whitening, you're sure to find one that will give you the smile you deserve.
About the Practice
Looking for a way to brighten your smile? Davidson Dental is the place for you! Our team of highly-skilled professionals knows what it takes to give you the smile you desire. We are dedicated to providing you with comprehensive, trustworthy care. We know you have a busy schedule, so let us help you get the smile you desire! To learn more about our services, contact us at (202) 775-0022.
Comments Off

on Treat Your Smile with Teeth Whitening on K Street or Porcelain Veneers
No Comments
No comments yet.
RSS feed for comments on this post.
Sorry, the comment form is closed at this time.