April 8, 2019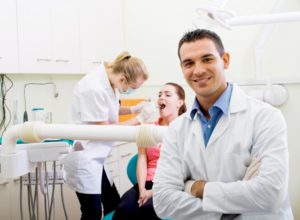 April is considered Oral Cancer Awareness Month among dental professionals, and for good reason. Dentists are in a unique position to catch a condition known for killing nearly 10,000 Americans every year. Even if you beat oral cancer, chances are you'll have major restorative and medical treatments to pay for, some of which may include major facial reconstructive work.
However, by visiting a dentist in Downtown D.C., you're more likely to avoid this scenario altogether when you catch oral cancer early.
How Common is Oral Cancer?
According to the Oral Cancer Foundation, approximately 53,000 Americans are diagnosed with oral cancer ever year. Among all forms of cancer, oral cancer is the sixth most common variation in the world. When cancer, oral or otherwise, is caught in the late stages, it becomes far more difficult to treat. The survival rate for oral cancer drops dramatically when caught in the late stages, typically as low as 39 percent. However, if caught in the early stages, the survival rate can reach as high as 84 percent.
What are the Symptoms?
The best way to confirm if oral cancer is present is by visiting a dentist who is trained to recognize the symptoms. However, monthly self-exams are essential to staying proactive, which is why you should always perform them at home in between routine exams. Start by locating a mirror in a well-lit room and examine your many oral structures, including your tongue, throat, mouth, tonsils, inner cheeks, gums and lips for abnormalities. These signs, as well as other common symptoms of oral cancer include:
Red or white patches inside the mouth or on the neck
Chronic sore throat or hoarseness
Lumps or bumps on the lips, neck, mouth, throat or tonsils
Numbness in the tongue or throat
Difficulty chewing, swallowing or moving the jaw/tongue
Chronic bad breath
Am I at Risk of Developing Oral Cancer?
While there are certain factors out of your control that increase your risk of developing oral cancer, including being over 45 years of age and being male, there are other factors you can control to reduce your risk. For example, 85 percent of head and neck cancer is linked to tobacco use. Drinking alcohol excessively can also increase your risk, and doing both increases your risk even more. Other common risk factors include:
Prolonged sun exposure (especially without wearing sunscreen or lip balm)
Having human papillomavirus (HPV)
Poor diet /nutrition
Poor oral hygiene
Having a weakened immune system
Having fair skin
How Can Dental Visits Protect Me?
Many dentists have begun using advanced oral cancer screening technology like the Vizilite® in order to more easily catch the early signs. This scanner's chemiluminescent technology allows dentists to pinpoint any abnormalities that appear. If there are any dark patches in your oral tissue, it's a sign of oral cancer. If these patches do appear, the dentist will schedule you for a biopsy to have the tissue tested for cancerous cells.
As long as you visit the dentist once every six months for comprehensive exams, you improve your chances of catching oral cancer early, rather than in the late stages. If it's been a long time since your last screening for oral cancer in Downtown D.C., schedule an appointment today!
About Davidson Dental Associates
Paying close attention to your oral health as well as your systemic health are both very high priorities for the dentists at Davidson Dental Associates. They use the most up-to-date technology to perform oral cancer screenings, ensuring that any issues that do arise are caught in the earliest stages possible. To learn more about their preventive treatments, you can contact the dentists via their website.
Comments Off

on Dentist in Downtown D.C. Can Keep You Safe From Oral Cancer
No Comments
No comments yet.
RSS feed for comments on this post.
Sorry, the comment form is closed at this time.