July 22, 2019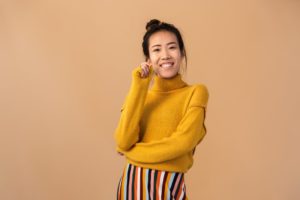 Are you looking into the best option to improve your smile that's riddled with cosmetic imperfections? With so many options, it's hard to narrow down your results. Because of your chipped, cracked, and misaligned teeth, you're not sure whether cosmetic bonding or porcelain veneers on K Street is the best option for you. Don't spend another second with a smile you're embarrassed to show off. Read on to find out what treatment is the best for your unique grin.
Porcelain Veneers
When you get porcelain veneers in Downtown D.C., you can enjoy a seamless, even, and symmetrical smile that looks great and is easy to take care of. They're thin, durable custom-crafted shells that cover the visible portion of your teeth to conceal a variety of different imperfections. They're bonded to the front of your teeth and offer multiple benefits, such as being stain-resistant and long-lasting.
Are Veneers Right for You?
Many patients choose porcelain veneers because they're able to mimic the same effects as your natural tooth's enamel by reflecting light. Because dental porcelain is also non-porous, you're able to enjoy a stain-resistant smile for years to come. Whether you're looking to improve multiple teeth or just a couple, this solution can do it all. Some problems that veneers can fix include:
Severely discolored teeth
Gaps between teeth
Broken teeth
Chipped teeth
Misshapen Teeth
Misaligned teeth
Cosmetic Bonding
For patients who are looking for a more cost-effective solution to repair their smiles, cosmetic bonding is a great option. Your cosmetic dentist will use a specially matched tooth-colored composite resin that will blend in with the rest of your teeth. They'll sculpt and recreate your damaged tooth so your smile looks complete and even. This process can also be done in a single visit and has a natural look.
Is Dental Bonding Right for You?
If you're looking to solve basic cosmetic imperfections like gaps in your smile, chips in your teeth, or subtly changing the shape of your teeth, bonding can help. This treatment is great for patients who are looking for a procedure that is faster and more cost-effective than veneers. Plus, it doesn't require your natural teeth to be altered as much. The main differences between this option and veneers are that it's more susceptible to discoloration and doesn't typically last as long.
It can be difficult choosing a cosmetic treatment to repair your smile. To help make the best decision, schedule a consultation with your dentist so you can get the answers you're looking for and learn the details of each treatment. You don't have to live with a smile that you're not proud to show off, instead, let your cosmetic dentist improve and repair it!
About the Practice
At Davidson Dental Associates, we offer the high-quality services of three highly trained professionals, including a prosthodontist, periodontist, and general dentist. Whether you're looking to get dental implants or cosmetic treatments such as porcelain veneers, you can get it all done under our roof. With decades of collective experience between our dentists, you're sure to feel in trustworthy and reliable hands. For questions or to schedule a consultation for a cosmetic service, visit our website or contact 202-775-0022.
Comments Off

on What's the Difference Between Cosmetic Bonding and Porcelain Veneers on K Street?
No Comments
No comments yet.
RSS feed for comments on this post.
Sorry, the comment form is closed at this time.