September 7, 2019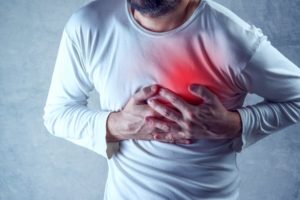 When the mouth begins to experience problems, don't be surprised if the body soon follows. Everything we consume passes along our tongue, teeth, gums, and throat before reaching our stomach. When eating that piece of cake, it's likely you're thinking more about how many additional hours you'll need to spend working off that extra slice than what the sugar is doing to your oral health. When gum disease in Downtown DC becomes evident, it's not only hurting your soft tissues, but it can lead to more serious health-related problems, too. Find out more about this common, yet, harmful disease and how it can negatively impact your heart, brain, and body.
What is Gum Disease?
Also known as periodontal disease, gum disease is when plaque and tartar grow around the teeth and gums, causing inflammation, redness, and even bleeding to occur. Millions of adults in the United States suffer from some form of gum disease, whether it is mild or severe, and unfortunately, many symptoms go undetected or ignored until the disease has progressed beyond reversibility.
What Are the Symptoms?
The most common symptoms of gum disease include:
Red, puffy, tender gums
Inflamed or bleeding gums
Teeth that appear longer than usual (receding gums)
Pimple-like sores on the infected gum area
Bad breath
How Can Gum Disease Affect My Overall Health?
The moment the infection and inflammation fall below the gum line and enter the bloodstream, you are now dealing with the possibility of experiencing problems with your overall health. When entering the blood, the infection and inflammation can be carried anywhere throughout the body, making it difficult to determine who and how they will be affected. Some of the more common problems patients can experience with gum disease include:
Endocarditis
Cardiovascular disease
Respiratory disease
Diabetes
Dementia or Alzheimer's
Pregnancy and birth complications
Osteoporosis
HIV/AIDS
How Can I Prevent Gum Disease?
If it is discovered that you already have gum disease, you'll likely undergo periodontal therapy in Downtown DC, which includes a process known as scaling and root planing. By removing the plaque and tartar build up and smoothing out the tooth root, you can prevent the spread of the disease from entering your bloodstream.
The best thing you can do to prevent gum disease from developing is to talk to your dentist about tips and tricks to take care of your teeth and gum health. You'll probably receive some of these useful suggestions, including:
Brushing your teeth twice a day for two minutes
Flossing at least once a day
Rinsing with an antimicrobial mouthwash
Keeping your regularly scheduled six-month appointments (three months if you're a periodontal patient)
Avoiding the consumption of too much sugar or starch, as they can lead to harmful bacteria burrowing into teeth and creating cavities
Don't let gum disease take over. Talk to your dentist today about ways in which you can be treated for periodontal disease. Once you take the proper steps, you can be well on your way to better gum health in no time.
About the Practice
Need help to improve your gum health? At Davidson Dental, our team of expert professionals can work with you to regain your healthy teeth and gums, as well as your overall health. The mouth and body are closely connected, which is why when gum disease is present, it is likely other health-related issues will begin to occur. Our dentists and staff know how to address these situations with proper care and ease, ensuring your experience is nothing but comfortable and calming. To learn more, contact us at (202) 775-0022.
Comments Off

on The Negative Impact of Gum Disease and How it Affects Your Health
No Comments
No comments yet.
RSS feed for comments on this post.
Sorry, the comment form is closed at this time.