October 18, 2019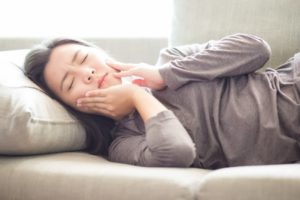 When you visited your dentist for a routine checkup and cleaning, you were surprised to hear the words "root canal" come from their mouth. It sent a wave of panic through you because you've only heard bad rumors about the dental procedure up until this point. Now, you're searching for reasons why you shouldn't put your root canal in Downtown DC on the backburner because of your fear and anxiety. Read on to learn why you should pick up the phone to schedule your procedure today.
Ease Your Intense Pain
A common sign that you need a root canal is that you have a severe toothache. These often hurt so much that they wake you up in the middle of the night or keep you from being able to focus on your work during the day. Many people associate this intense discomfort with the procedure itself, when really, root canals alleviate your pain. After the procedure, you may feel some tenderness while your body adjusts to the feeling of your tooth being hollowed out, but the newness will fade away, leaving you with a healthy and fully functioning natural tooth.
Stop the Infection From Spreading
When infected teeth aren't properly treated as soon as possible, the risk of the infection spreading to other teeth and parts of the body increases. This can cause a potentially life-threatening situation, resulting in fatigue, dizziness, and cold sweats, which are all signs that you need emergency medical attention. Infections can hop to different teeth, resulting in tooth loss. They can also spread into the bloodstream and travel to other areas of your body. To keep the issue from becoming more serious, it's important to schedule your appointment as soon as possible.
The Issue Won't Get Better On Its Own
Many patients wonder whether their pain or the problem itself will eventually go away, getting better on its own. As much as we have all hoped this would happen, it doesn't. Untreated oral health problems only get worse. In some cases of tooth infections, the pain might go away on its own, but that only means that the nerves inside your tooth are all dead and the infection is still getting worse.
Save Your Natural Tooth From Extraction
You only get one set of permanent natural teeth, which means that it's vital to take proper care of them so they don't get damaged so severely that they need to be extracted. Not to mention, tooth extractions are a more time-consuming, costly, and invasive procedure, which are more of a hassle to deal with than simple root canal therapy. Not to mention, teeth that are treated with this procedure often last for a lifetime, meaning that you'll still be able to enjoy having a completely natural smile.
If you're experiencing severe oral pain or have a pimple-like bump on your gums, don't hesitate to contact your emergency dentist. They can schedule a checkup right away and let you know whether your discomfort is caused by an infected tooth. With timely intervention, you can preserve your pearly whites along with your overall health.
About the Practice
At Davidson Dental Associates, we have three specialists on staff, including a general dentist, periodontist, and a prosthodontist. That way, our patients are sure to get the highest quality of care from professionals who are specifically trained to provide the services they need. With decades of experience under our dentist's belts, they allow patients to feel comfortable and confident in the fact that they're receiving reliable and trustworthy dental care. For questions or to schedule an emergency appointment due to a severe toothache, visit our website or call 202-775-0022.
Comments Off

on 4 Reasons Not to Delay Getting a Root Canal
No Comments
No comments yet.
RSS feed for comments on this post.
Sorry, the comment form is closed at this time.