January 28, 2020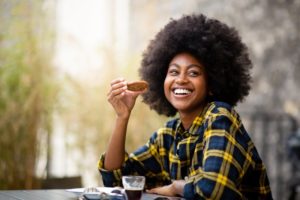 Just like with braces, it'll take awhile for you to adjust to the feeling of Invisalign in Downtown. This modern orthodontic treatment efficiently and effectively adjusts the position of your teeth to fix a variety of problems like gapped teeth, misalignment, and crowding. Not only will you end up with a more beautiful smile, but having fewer nooks and crannies collecting harmful bacteria in your mouth will also improve your oral health! Before you commit to this treatment, read your dentist's hot take on what it's like adjusting to wearing your new Invisalign trays below.
Eating and Drinking With Aligners
One reason why patients enjoy Invisalign aligners over traditional braces so much is that they don't have to drastically change their diet while they're undergoing treatment. Because your trays are removeable, you can continue eating all of your favorite foods and drinks without worrying about damaging or breaking them. All you have to do is take them out before you do.
Keeping Your Aligners Clean and Clear
It's important to keep your aligners clear of bacteria and debris to prevent oral health problems from forming throughout your treatment. Plus, when you regularly clean them, you can keep them from becoming stained and losing their discreetness. The good news is that cleaning your trays is an easy process and only requires a soft-bristled toothbrush, some running water, and a non-abrasive denture cleaner or toothpaste. Scrub your aligners every day, and be sure to rinse them before you put them back in your mouth. You can also sanitize your aligners by soaking them at least once a week in a 50/50 mixture of vinegar and water for 15-minutes.
Adjusting to Soreness
Some patients experience slight soreness when they switch to the next set of aligners in their treatment because they're designed to place a different amount of pressure on the teeth. However, it's no amount of discomfort that can't be remedied with an over-the-counter pain medication like ibuprofen. You can also skip this adjustment period by switching to your new set of aligners at night, that way you sleep through a majority of it.
Storing and Keeping Track of Your Aligners
During the first few weeks of Invisalign treatment, you'll need to get used to putting your aligners back in your mouth after you eat and drink, making you more likely to accidentally lose them and not notice until later in the day. To avoid this, be sure to always place them back in their hard storage case, even if you're out in public. This will also help prevent bacteria and germs from attaching to them.
Being Diligent About Wearing Your Aligners
Your cosmetic dentist in Downtown will let you know upfront that Invisalign treatment is a commitment. You'll need to wear your trays for at least 22 hours each day to achieve the results you want. At first, it may be tempting to regularly take them out of your mouth, but it's best not to, so you can get used to the feeling of them.
When you visit your cosmetic dentist for your initial consultation, they can answer any questions or concerns you may have about the treatment. That way, you know that it's the right choice for you. Invisalign is a great option for most patients, and you won't regret putting in the work of straightening your smile when you get to see the final results.
About the Practice
At Davidson Dental Associates, we offer the care and expertise of three specialists: a prosthodontist, a periodontist, and a general dentist. That way, during your Invisalign treatment, if you have any additional issues you'd like to address, we'll be able to do it all under the same roof. We understand how much of an impact a straighter smile can have on a patient, which is why we offer customized orthodontic treatments to optimize their oral health and boost their confidence. For questions or to schedule a consultation, visit our website or call 202-775-0022.
Comments Off

on Do You Have Questions About Living With Invisalign? Get Them Answered By A Dentist
No Comments
No comments yet.
RSS feed for comments on this post.
Sorry, the comment form is closed at this time.