February 27, 2020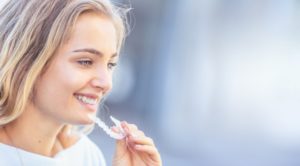 With Invisalign in Downtown, you're no longer relegated to choosing traditional braces to straighten your teeth and align your bite. The low-profile, clear-plastic trays provide a way to discreetly and comfortably adjust your ivories until you achieve a balanced, functional and attractive bite. With its removable trays, Invisalign is highly versatile, but can you get by with only wearing a single tray to adjust your top row of teeth? Read on to find out.
How Invisalign Works
While Invisalign doesn't use metal brackets and wires to make adjustments, it's still similar to traditional braces in that it moves your teeth by applying pressure. The difference, however, is that each set of trays, which is worn for around two weeks, targets a certain part of the bite with pinpoint accuracy. This allows for gradual adjustments and a more comfortable treatment process.
With an individual tray for the upper and lower teeth, the procedure also offers a level of customization that is unmatched. However, attempting to only fix one row at a time could pose some unique challenges.
Potential Issues with Single Row Adjustments
It should be remembered that while Invisalign creates gorgeous smiles, it's still an orthodontic procedure. That means it's designed to create a functional set of teeth and properly aligned bite. This helps to prevent problems like premature enamel wear and TMJ disorder, which is the painful inflammation of the joint that opens and closes the jaw.
The main issue with a single row adjustment is the possibility of malocclusion (poor bite). Your teeth exist in a symbiotic environment. That means when there is movement or changes in one area, the results can be experienced elsewhere. Thus, if only your top teeth shift, any previous bite imbalances could possibly become worse.
Visit a Dentist for More Clarity
Because every bite is different, the Invisalign process is highly customized to meet the specific needs of each patient. Thus, the first place to start your journey is with visiting your local dentist.
Here's what you can expect to happen:
Your oral health will be thoroughly examined to make sure there are no issues lurking, like cavities or gum disease.
You'll be assessed to determine the severity of your bite imbalances, the strength of your teeth and the functionality of your jaw.
You'll have the opportunity to ask your dentist, "Can I just get Invisalign on the top?"
Once you receive all the information you need and you're cleared for take-off, you can proceed with having your smile rejuvenated with Invisalign in the most productive manner possible!
About the Author
Dr. Julian Gapud earned his dental degree from Howard University College of Dentistry. To further expand his knowledge, he takes continuing education courses from the DC Dental Society and DC Academy of General Dentistry. Dr. Gapud understands that having a functional and attractive smile is of equal importance, which is why he provides thorough Invisalign treatment. He effectively corrects bites at Davidson Dental Associates, and he can be reached for more information through his website.
Comments Off

on Can I Just Get Invisalign for the Top Row of Teeth?
No Comments
No comments yet.
RSS feed for comments on this post.
Sorry, the comment form is closed at this time.