April 22, 2020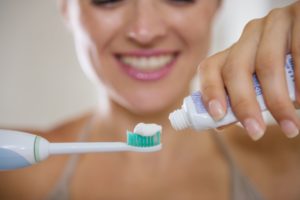 There is no escaping it. Every time you turn on the TV, scroll through social media, or talk to a friend there seems to be more bad news about the COVID-19 pandemic.
To protect ourselves, and our loved ones, it is important that we all do our part to flatten the curve and reduce the spread of germs. A dentist in DC shares changes you can make to your oral hygiene routine that will help lower your risk of getting COVID-19.
The Relationship Between COVID-19 And Dental Care
One characteristic of COVID-19 that has been apparent from the start is that it can be transmitted through touching your face. Each of your hands is home to 5 million bacteria, which can access your immune system through your nose, ears, and mouth. One dangerous element of this pandemic is that you can contract the virus weeks before showing signs, which gives the germs plenty of time to make a home on your toothbrush. From there, the germs can spread to the holder, your significant other's toothbrush, and all over your bathroom. Therefore, it is of the utmost importance that you make a germ-free environment a priority during this pandemic.
4 Oral Hygiene Changes To Lower Your Risk of COVID-19
Did you know 700 different species of bacteria live in your mouth? For decades, dentists have implemented dental safety in their office by wearing masks, gloves, gowns, and eyewear to prevent the spread of germs. However, you rarely, if ever, consider taking extra safety measures to reduce the spread of germs in your own dental care routine. To help lower your risk of spreading germs, here are some changes you can make to your oral hygiene routine in a pandemic.
Wash your hands before and after brushing – Washing your hands with soap and water can kill 77% of the bacteria on your fingers and palms. While many have opted to wash their hands before coming in contact with others, it is important to extend that same courtesy to yourself by washing your hands before and after you brush your teeth.
Disinfect your toothbrush – Your toothbrush effectively removes debris, plaque, and bacteria from your teeth and gums. However, if your toothbrush is not disinfected then it will remain a host. Fortunately, you can combat this by rinsing your toothbrush with hot water after each use, soaking the handle of the brush in bleach and water, or placing it in the dishwasher for a full cycle. You should disinfect your toothbrush at least once a week.
Don't share your oral hygiene tools – This includes toothpaste, floss, brush holders, and the toothbrushes themselves. To limit the spread of germs between your weekly disinfections, keep your oral hygiene tools separate from everyone else in your home.
Replace your toothbrush regularly – Even outside a pandemic, it is recommended that you replace your toothbrush every three months. However, if you get sick you must replace it as soon as you are on the mend. This will avoid reintroducing germs to your immune system.
Hearing constant updates about COVID-19 is inevitable. However, by implementing these changes to your oral hygiene you can sleep soundly knowing you are doing your part to protect yourself and your loved ones!
About Davidson Dental Associates
Lead by Dr. Wanda Davidson, the team at Davidson Dental Associates provides a complete dental experience to the people of Washington, DC. Between specialists Dr. Davidson, Dr. Winson, and Dr. Gapud, you can receive exceptional care you with few outside referrals. If you have any questions about your oral hygiene routine during COVID-19, don't hesitate to visit their website or contact them by phone at 202-775-0022.
Comments Off

on Reduce Your Risk of COVID-19 With These Oral Hygiene Tips
No Comments
No comments yet.
RSS feed for comments on this post.
Sorry, the comment form is closed at this time.