November 1, 2020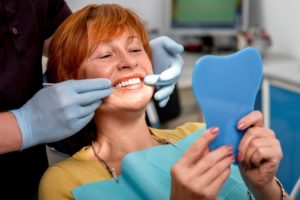 You have many things to be thankful for this holiday season. Whether you are spending time with family or taking some time for yourself, it pays to think about the thing in your life that you are grateful for. If you have suffered from tooth loss in the past and opted for dental implants as a tooth replacement option, having your smile back is probably something that brings you a lot of joy. Continue reading to learn about the many different reasons why you should be grateful for your dental implants from Downtown.
Implants Prevent Bone Loss
If you have missing teeth, you will eventually lose bone mass over time. This is because your jawbone isn't getting the stimulation it needs in order to maintain its mass. Over time, you could end up with physical signs like sunken in cheeks and wrinkled lips. Ultimately you could end up looking much older than you actually are. As of now, dental implants are the only tooth replacement option out there that maintains the integrity of the jawbone and prevents bone loss by replacing the missing root of the tooth.
Dental Implants Restore Functionality
Because dental implants are placed directly into the jawbone by your dentist, the titanium fuses to the bone in a process called "osseointegration." This allows for greater stability and can restore up to 90% of your natural chewing power. Other tooth replacement options, like dentures, can only restore up to 30% of your bite force. Even though this is still lifechanging for people who are missing most of or all of their teeth, it can still be difficult to eat some of your favorite foods. Dental implants offer a lot more for patients.
Tooth Implants Look Natural
Another great think about dental implants is that they look just like your natural teeth. No one can tell the difference. This is because your dentist carefully and thoughtfully plans where your implants need to be placed, and the crown on the end of the implant is customized to be the exact size, shape, and color needed for fitting in seamlessly with the rest of your smile.
Implants Are Easy to Care For
When it comes to caring for your dental implants, you won't need to stock up on cleansing tablets, adhesives, or special flossers. All you need to do is treat them how you would with your natural teeth. This include brushing twice and flossing once daily, rinsing with mouthwash, and attending regular dental visits for cleanings and checkups.
Dental Implants Are Permanent
Other tooth replacement options, like dentures and dental bridges, need to be repaired and replaced periodically. However, dental implants are a permanent tooth replacement option. When cared for properly, they can last upwards of 25 years and even the rest of your life. You may never have to think about your missing teeth ever again!
This holiday season, don't forget to give thanks for your teeth. If you're missing teeth, ask your dentist if you'd make a good candidate for dental implants on K Street. This way, you can reap all of the benefits of a strong, healthy smile!
About the Practice
At Davidson Dental Associates, you have two experienced dentists providing quality care to patients in the Washington D.C. area. Dr. Wanda Davidson is a Prosthodontist who has completed a fellowship in implant prosthodontics, with an emphasis on surgical and prosthetic implant cases. She works alongside Dr. Dennis Winson, a Periodontist who has been working in the dental field for more than 50 years! For more information on dental implants or to schedule an appointment, visit their website or call (202) 775-0022.
Comments Off

on 5 Reasons to Be Thankful for Dental Implants
No Comments
No comments yet.
RSS feed for comments on this post.
Sorry, the comment form is closed at this time.