January 4, 2021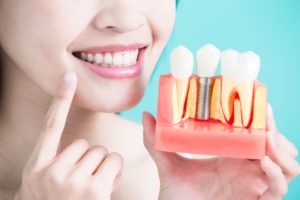 Dental implants are quickly becoming one of the most popular ways to replace teeth. In fact, according to the American Dental Association, more than five million dental implants are placed every year in the United States alone! However, there are still plenty of rumors and misconceptions about this state-of-the-art treatment. Choosing to rebuild your smile with dental implants is a big decision that could potentially change your life, so it's important that you have all the correct information about them! Read on as we debunk five of the most common myths about dental implants.
Myth #1: Only Older Adults Can Get Dental Implants
While tooth loss becomes more common with age, anyone can lose a tooth! Whether from an injury, health condition, gum disease, or poor oral hygiene, missing teeth negatively impact smiles of all ages. Thankfully, practically anyone with good oral health and a strong jawbone can get dental implants. Teenagers will typically need to wait until they're 16 or 18 to get dental implants, but there is no upper age limit.
Myth #2: Dental Implants Are Noticeable
In the past, restorations like dentures and dental bridges didn't quite look like natural teeth, so they were very noticeable. Thankfully, this isn't an issue with dental implants. Thanks to modern technology and materials, dental implants are designed to blend in seamlessly with the rest of your smile. They'll be practically indistinguishable from natural teeth in practically every way, including look and function.
Myth #3: Dental Implant Surgery Hurts
Many people get nervous when they hear that getting dental implants involves surgery. However, you have nothing to fear. Modern sedation and anesthesia ensure that you stay comfortable throughout your treatment, and most patients are pleasantly surprised at how comfortable the process is. It's also important to remember that there aren't any pain-sensing nerves in the jawbone!
Myth #4: Dental Implants Only Replace One Tooth
Dental implants are one of the most versatile tooth replacement options available! Whether you're missing one tooth, multiple teeth, or an entire arch, dental implants can help. The dental implants you get will be topped with a custom-made restoration. Depending on how many teeth you're missing, this restoration could be a crown, bridge, partial, or full denture.
Myth #5: Dental Implants Are Too Expensive
It's true that dental implants have a higher initial cost than other tooth replacement options. However, they're well worth the price, and they can even become the most cost-effective solution in the long run. Not only will dental implants save you money on repairs and replacements, but they improve oral health and lower your dental care costs. Many times, dental insurance companies will pay for parts or percentages of dental implant treatment, and your dentist will work with you to make your new smile as affordable as possible.
To learn more about dental implants, call your dentist today to schedule a consultation. They'll be happy to answer all your questions and explain how dental implants can improve your life!
About the Author
Dr. Wanda Davidson and her team here at Davidson Dental Associates is proud to offer start-to-finish dental implant treatment in Washington, DC. Thanks to her advanced training, modern technology, and years of experience, she can save her patients the time, money, and hassle of visiting an unfamiliar outside specialist. She's helped countless patients reclaim complete, confident smiles with dental implants, and she would be more than happy to do the same for you! To schedule your consultation, she can be reach via her website or at (202) 775-0022.
Comments Off

on 5 Common Myths About Dental Implants
No Comments
No comments yet.
RSS feed for comments on this post.
Sorry, the comment form is closed at this time.