July 26, 2021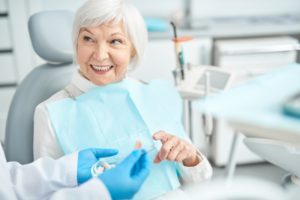 Because of your missing teeth, you've been forced to adjust your lifestyle accordingly. You've had to give up many of the foods you love, grin carefully and alter the way you speak. Thankfully, there is a way to regain the full usage of your teeth and smile with confidence: with the placement of a dental bridge. However, you want to know that you'll get adequate longevity for your investment. Continue reading to gain some valuable insight about the dental bridge lifespan.
How Dental Bridges are Made
A dental bridge is a series of prosthetic teeth (crowns) made from high-grade ceramics (porcelain). Affixed to a single apparatus, they are custom designed to match the size, color and shape of the surrounding teeth to create a harmonious appearance.
The process starts with your dentist taking bite impressions and then sending the smile measurements to an in-network lab that will fabricate your bridge. In preparation for the new fixture, the dentist will slightly alter the surrounding teeth so that dental crowns can be added to serve as abutments (anchors) for the bridge to be bonded to.
Using safe and effective dental cement, your dentist will permanently place the bridge and fill in the vacated space for a complete restoration.
Why is Porcelain the Material of Choice?
Dental bridges are typically made from porcelain because of the material's many similarities to natural teeth. Thus, it matches the translucency and strength, which allows it to meet two of the most important criteria: attractiveness and durability.
What's the Lifespan of a Dental Bridge?
Reasonably, a dental bridge can last up to 15 years. However, its longevity is ultimately dependent on how well you care for it. Here are some tips for getting the most mileage out of your bridge:
Brush and floss at least two times a day.
Visit your dentist every six months for cleanings and checkups.
Don't use your teeth as tools to open packages or trim your fingernails.
Avoid eating foods like nuts, popcorn kernels, steak, caramel and chewing gum that isn't made for denture wearers.
Monitor your consumption of foods high in sugar, as they can contribute to oral bacteria growth and tooth and gum decay.
When you finally have your smile and functionality restored, the last thing you want is to regress back to the old days. With the help of your dentist, a winning strategy and proper execution, you can enjoy your beautiful smile for over a decade!
About the Author
Dr. Wanda Davidson earned her dental degree from the University of Maryland College of Dentistry. She then completed an additional three years in a postgraduate specialty program in prosthodontics. Dr. Davidson is known for providing personalized and competent care that meets her patients' varied needs. She designs and places dental bridges at Davidson Dental Associates, and she can be reached for more information or to schedule a visit through her website.
Comments Off

on How Long Can I Expect My New Dental Bridge to Last?
No Comments
No comments yet.
RSS feed for comments on this post.
Sorry, the comment form is closed at this time.