November 18, 2021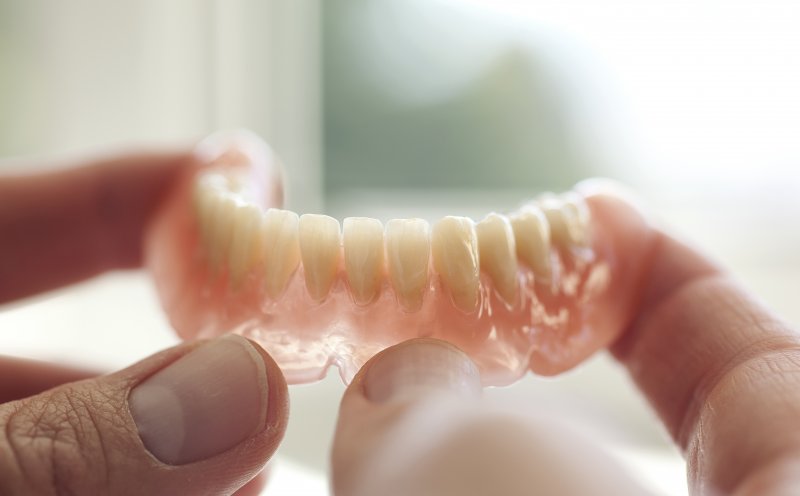 Dentures are one of the most traditional methods of tooth replacement. Although they're an excellent way to restore one's smile and confidence, they may leave some people wanting a better fit or stability. As a result, those with dentures might decide to use denture adhesive to help their oral appliance stay in place. If you're thinking about using denture adhesive, continue reading to find out which signs indicate you need it and learn a few helpful tips for using it.
What Is Denture Adhesive?
Denture adhesive is designed to help temporarily attach your dentures to your gums. It helps increase stability and creates a seal, keeping particles from getting trapped between your gums and dentures. When shopping for denture adhesive, you'll quickly realize that there are numerous different types to choose from. From pastes to powders to wafers, you're guaranteed to find something that'll work best for your individual needs.
When Should You Use Denture Adhesive?
Are you unsure whether you should use a denture adhesive? Here are two signs that indicate it may the right solution for you.
You Frequently Use Your Facial Muscles
If your dentures fit well, they should not require any help staying firmly in place. However, some people may opt to use denture adhesive as an added sense of security, particularly those who frequently use their facial muscles. Singers, public speakers, teachers, and athletes are just a few examples of people who can benefit from this product.
Your Dentures Slip Towards the End of the Day
A film of saliva is all that's necessary to hold your dentures in place effectively. But if your appliances slip and slide throughout the day, you may want to consider using denture adhesive to keep them from moving. The product is most beneficial for patients who suffer from dry mouth conditions, have neurological disabilities, or are elderly.
How Do You Use Denture Adhesive?
Using denture adhesive can be a bit tricky. To ensure your dentures stay in place all day, you must make sure it's properly applied. If you're not sure what to do, here's a simple guide for applying adhesive:
Application
First and foremost, you must brush and rinse your dentures thoroughly. Make sure they're fully dry before advancing to the next step.
Carefully apply the adhesive to your dentures according to the instructions on the packaging. Start with a small amount and try not to apply close to the edges.
Carefully position the dentures, press firmly, and hold them in place for a few seconds. If adhesive begins to flow into your mouth, you applied an excess amount.
Removal
Use warm water, toothpaste, and a soft-bristled toothbrush to get rid of the residue from your gums, palette, tongue, and mouth.
Once you're done, thoroughly clean your dentures with a special denture cleanser.
Do you think you may need to start using denture adhesive? Contact your dentist and ask about their recommendations. With their help, you can regain the confidence and security you deserve!
About the Practice
At Davidson Dental Associates, we provide exceptional, comprehensive dentistry that's guaranteed to exceed even your highest expectations. Our highly skilled and experienced team will always go the extra mile to ensure you receive the best treatment possible. If you're thinking about using denture adhesive, we can help you weigh your options. Visit our website or call (202) 775-0022 to speak to a member of our team.
Comments Off

on Denture Adhesive: Signs You Need It and How to Use It
No Comments
No comments yet.
RSS feed for comments on this post.
Sorry, the comment form is closed at this time.