June 7, 2022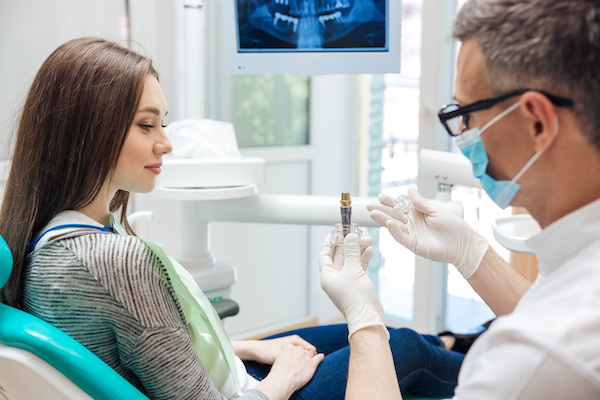 Summer is a special time of year. It seems like everything slows down a little bit – which makes June, July, and August perfect for those things you've been putting off. If you are missing one or more teeth, that means dental implants. Keep reading for the top reasons why summer is the best time to take the plunge with this tooth replacement option! 
What Are Dental Implants?
Dental implants are titanium posts that are surgically placed beneath the gum line. Thanks to a magical process known as "osseointegration," they gradually fuse together with the jaw bone to provide a sturdy foundation for the replacement crowns that are placed on top.
The entire process for dental implants takes 4-6 months. And, with proper care, dental implants can be expected to last a lifetime.
Why Summer Is the Perfect Time for Tooth Replacement
If you're trying to decide when to get dental implants, consider the following benefits that summer offers:
More time: Dental implants require oral surgery, which means you will need a few days to rest and relax after implantation. Many people choose June, July, or August for their procedure because it's easier to schedule time away from work or to be away from school during the summer months.
Dental insurance: Most dental insurance plans are on a calendar year, which means that you should still have plenty of benefits remaining during the summer. And there's no better way to use them than on dental implants – the premiere tooth replacement!
Heal before the holidays: While you'll be back to your normal routine just days after implantation, the dental implants will be fusing together with the jaw bone for the next several months. Getting started in the summer means the process will be complete by the holiday season, so you'll be smiling with full confidence and able to eat all your favorite holiday foods!
Are You a Candidate for Dental Implants?
Many patients who are missing teeth or who are on the verge of having teeth extracted are excellent candidates for dental implants. As long as you are in good general health and your teeth have not been missing for too long, it is likely that you, too, can benefit from this replacement option. The only way to know for sure is to book a consultation with your dentist. If the answer is yes, don't wait to get started to reap all the benefits that summer offers for dental implant placement!
Meet the Practice
Led by Dr. Wanda Davidson, Davidson Dental Associates offers A Complete Dental Experience. Their amazing specialists, including experts in prosthodontics and periodontics, work together to provide patients with a full list of dental services, like dental implants for tooth loss. If you are missing teeth and wondering about your tooth replacement options, don't hesitate to get in touch with the office via their website or by calling (202) 775-0022.
Comments Off

on Top Reasons Summer Is the Perfect Time to Get Dental Implants
No Comments
No comments yet.
RSS feed for comments on this post.
Sorry, the comment form is closed at this time.