November 22, 2022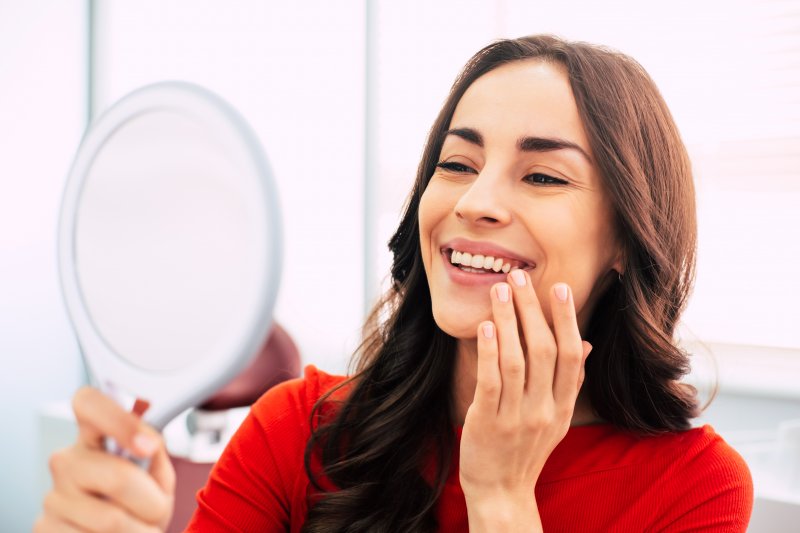 Thanksgiving is right around the corner, so maybe you're considering what you're grateful for this year. Perhaps things like family, friends, and livelihood come to mind. Whatever your thoughts, though, it'd be a good idea to make dental implants part of your giving of thanks. Those who have them know firsthand how much they add to one's life. If you need a reminder, your DC dentist can help you out. Here's a summary of major reasons to be grateful for implants on Thanksgiving.
They Let You Eat Easily
As you may already know, tooth loss makes eating a challenge. Without all your pearly whites, it's hard to chew food into smaller bites that you can swallow. Dentures and bridges can help a bit, of course, but they sometimes slip or fall during meals.
Blessedly, dental implants resolve this issue. These prosthetics restore much of your chewing ability by fusing with your jawbone. In fact, studies show they bring out 85% of your natural bite force. (Compare this number to dentures, which only offer 35% of said bite force.)
They Look Natural
Some patients worry that restorations won't appear "real" enough. In particular, you may fear that friends and family will see that your new teeth are fake. This concern isn't wholly unjustified either, as the cheapest dentures don't use the best materials.
In contrast, you can rest assured that implants look natural. Dentists customize them to match your other teeth, whether in terms of color, shape, or size. As such, they blend seamlessly with the rest of your smile.
They Boost Oral Health
Missing teeth don't just ruin your good looks; they can harm your oral health too. For one thing, the smile gaps they create cause surrounding teeth to shift out of alignment. Left unchecked, this process can trigger more tooth loss. Furthermore, lacking teeth makes your jaw erode as the latter receives less stimulus from chewing.
Dental implants prevent the above scenarios. By filling the gaps in your smile, they keep adjacent teeth in their proper positions. At the same time, implants stimulate your jawbone and thus preserve its bone tissue.
They're Cost-Effective
Compared to other prosthetics, dental implants are very long-lasting. They tend to have an average lifespan of 15-20 years, much higher than bridges and dentures' 5-10 years. Even better, implants can last 30 years or more if given the proper care.
Naturally, the difference in lifespan makes implants the more cost-effective option. Most patients only need one procedure, even if they have a moderate upfront cost. Meanwhile, dentures and bridges need frequent replacement, leading to higher expenses overall.
Dental implants make many positive differences. Therefore, keep the benefits above in mind for your upcoming Turkey Day.
About the Practice
Davidson Dental Associates is based in Washington, DC. As led by its splendid team of dentists, our practice strives to give everyone comprehensive, trustworthy care. Therefore, we practice preventive, cosmetic, and restorative dentistry, as well as emergency procedures. Plus, these services are reliably effective and safe thanks to our dental technology. To learn more information or to book a visit, you can reach us on our website or by phone at (202)-775-0022.
Comments Off

on The Major Reasons to Be Thankful for Dental Implants
No Comments
No comments yet.
RSS feed for comments on this post.
Sorry, the comment form is closed at this time.