Downtown Washington, D.C. General Dentist
Julian Gapud, DDS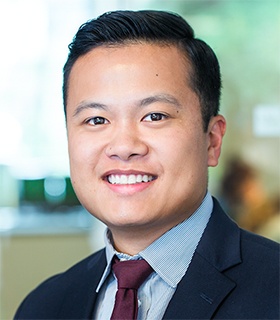 Dr. Gapud has been practicing dentistry for almost three years now, and he looks forward to many more as a member of the Davidson Dental Associates team. He received his Doctorate from Howard University College of Dentistry and completed his General Practice Residency at the Bronx-Lebanon Hospital Center. Today, he regularly attends continuing education courses from the DC Dental Society and DC Academy of General Dentistry. As a provider, he believes it's his obligation to stay informed and keep up-to-date with the most modern information.
Dr. Gapud is a current member of:
American Dental Association
American Academy of Cosmetic Dentistry
DC Dental Society
DC Academy of General Dentistry
What excites Dr. Gapud the most about his work is being able to empower people to take control of their oral health. He enjoys how passionate and friendly all of the team members are, as well as how much everyone at the practice prioritizes comfort. He always looks forward to restoring smiles and helping people understand the importance of healthy teeth throughout everyday life. As a dentist, it's his duty to educate and enable people to make the right decisions, no matter what background or past dental care experience they have. He approaches each appointment with plenty of honesty and compassion.
Dr. Gapud's parents migrated to America from the Philippines. He grew up in Charleston, SC before moving to Brookland. His sister is currently studying to be a Physical Therapist in California, and he has three more siblings He has an oversized lap dog named Mila who is mixed Rhodesian Ridgeback. Outside of work, he is currently taking salsa lessons and also enjoys watching movies, checking out new restaurants, listening to live music, cooking, hiking, and keeping up with Washington sports. He is dedicated to living his life fully and authentically!