Single Dental Implants – Downtown, DC
Restore Your Tooth from Top to Bottom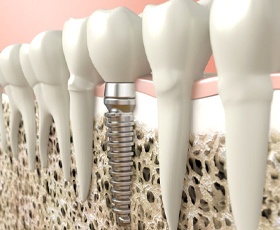 The dentists at Davidson Dental Associates are highly trained in performing every aspect of your dental implant procedure, including the placement stage. Our office can replace any number of missing teeth, but single tooth replacement is by far the most common. We believe that dental implants are the most effective solution to replace missing teeth because they work to restore the root portion, not only the crown. If you're ready to experience the most advanced form of tooth replacement, give our office a call!
Your Options for Replacing Teeth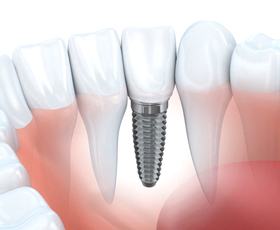 When replacing a single tooth, your options for replacement fall between dental bridges and dental implants. Bridges use a combination of crowns fused together to bridge the gap in your smile. The crown on either side uses natural teeth as anchors, while the replacement tooth sits in between them. Keep in mind that bridges do require some removal of tooth enamel in order to establish a reliable anchor. In comparison, dental implants use a dedicated, titanium post to hold a replacement tooth, meaning that neighboring teeth can be left untouched. This self-supporting solution is more ideal if you want to recreate your missing tooth as closely as possible.
What are Single Tooth Dental Implants?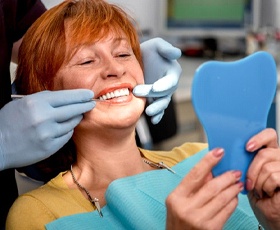 Single tooth dental implants consist of three components: the titanium post (implant), an abutment (screw that attaches restoration and implant together), and the porcelain crown that mimics your natural teeth. By replacing the entire root structure, you can expect restorative benefits that you won't get from bridges or dentures. Once the implant has been placed, it will require several months of healing before it can be restored with a crown. Treatment time may also be longer if preparatory procedures are needed prior to your surgery.
What Benefits Can I Expect?
There are many reasons why dentists are calling dental implants the gold standard for tooth replacement. Consider the most common reasons below as you consider which treatment is right for you:
Independent of Natural Teeth – Since the titanium post is strong enough to hold teeth on it's own, you can avoid having to remove existing tooth enamel. If you suffer from dramatic tooth loss and want to maintain as much natural tooth as possible as well as reduce teeth sensitivity, dental implants may be a more ideal option.
Durable and Reliable – Dental implants are the only tooth replacement option that lasts between 25 years and a lifetime when properly maintained. This cannot be said for dentures or bridges, which require replacement every decade on average.
Aesthetics – All crowns used to restore dental implants are made from porcelain, ensuring that no one around you will be able to tell the difference between your natural teeth and dental implant.
No Special Care Required – Dental bridges and dentures can be notoriously difficult to clean and maintain, but dental implants are designed to be cleaned just like natural teeth. You can also eat all the foods you enjoy, including steak, apples, and nuts!