June 7, 2020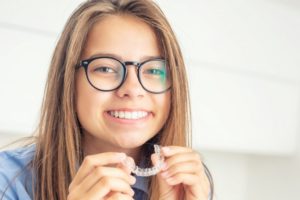 Long gone are the days of using metal braces, rubber bands, and headgear to fix misaligned teeth. Today, patients can use Invisalign to achieve a beautifully straight smile in an average of 12 months! While the clear aligners are known for providing virtually invisible treatment, the freedom they provide patients is one of the reasons they have over a 96% satisfaction rate! Read on for five freedoms you can enjoy with Invisalign in Downtown.
Freedom to Remove Them
One of the revolutionary aspects of Invisalign's treatment is that the aligners used to straighten your teeth are completely removable! In fact, as long as you wear them for 22 out of the 24 hours of the day, you can achieve a beautifully straight smile in just one year! This allows patients to eat, drink, and brush without feeling constricted or compromising their treatment plan.
Freedom to Eat What You Want
With traditional braces, patients must follow strict instructions regarding foods that can break or damage the brackets and wiring. However, Invisalign's clear aligners are removable, which means no food restrictions! Therefore, patients can enjoy popcorn, gum, and apples as long as they pop out their trays before doing so.
Freedom of Confidence
Metal braces are extremely effective, but they are also highly visible. Although the brackets today can match the enamel on your teeth, Invisalign is the leader in providing patients virtually undetectable treatment. So, if you have a special night out or big job interview coming up, you can walk in confidently and flash your beautiful smile without worrying about "metal mouth." All eyes will be on you, not your braces.
Freedom from Discomfort
It is no secret that traditional braces are known for their discomfort. After all, the wires are prone to irritating your gums and the brackets can rub against your cheeks incessantly. However, the trays that Invisalign uses to straighten your smile completely forgo pesky brackets and wiring altogether. The only discomfort you may feel is from the pressure of your teeth moving (which means it is working!).
Freedom to Brush and Floss
Between the brackets on each tooth and the stiff wiring that connects them, food can easily get trapped on your teeth. Over time, these lingering particles can build up bacteria and plaque, especially since properly brushing and flossing can be difficult with braces. Therefore, even the most diligent oral care routine can still result in tooth decay and cavities. However, Invisalign's clear aligners are completely removable! So, you can complete your dental hygiene routine stress-free for a smile that is as healthy as it is beautiful.
If you are looking to straighten your smile without sacrificing your freedoms, then Invisalign may be the solution you've been looking for. With their virtually invisible trays and effective treatment, you can have the smile of your dreams by this time next year!
About the Practice
At Davidson Dental Associates, their attention to detail, high-quality service, and world-class dental care is second-to-none. Dr. Wanda Davidson, Dr. Dennis Winson, Dr. Julian Gapud, and the entire team are unified behind their mission to deliver comprehensive treatment plans that provide you with a smile that is as healthy as it is attractive. If you are looking to straighten your teeth with Invisalign, visit their website or give them a call at 202-775-0022.
Comments Off

on 5 Freedoms You Can Enjoy with Invisalign
No Comments
No comments yet.
RSS feed for comments on this post.
Sorry, the comment form is closed at this time.