August 20, 2020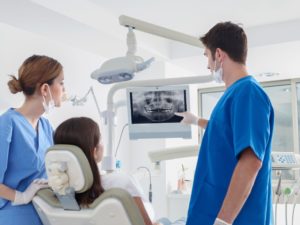 As a parent, keeping track of the whole family's health needs can seem like a full-time job. When your child needs braces, your elderly mother needs dental implants, and you need a new dental crown, it can be stressful trying to plan out several appointments with various dental specialists. However, if you visit a multispecialty dental practice, you can meet the dental needs of the entire family in one place. Read on as a dentist on K Street describes three benefits of visiting a multispecialty practice for oral healthcare.
Services for the Whole Family Under One Roof
If you have a young child, you might take them to a pediatric dentist. However, if they end up needing braces, ordinarily you'd have to shuttle them across town to see an orthodontist. This can cause you unwanted stress and waste lots of time and gas money. Instead, take the whole family to a multispecialty practice. From caring for your little one's first tooth to placing Grandma's dental implants, there's a specialist who can meet everyone's needs in one building. In many cases, they can even schedule the whole family's checkups on the same day.
A Team Approach
Sometimes all you need is a quick checkup and cleaning, but other times, you might need a specific procedure, like a dental implant or a crown. Most general dentists would have to refer you to an outside specialist, which increases your travel time and requires you to receive treatment from someone you might not know. With a multispecialty practice, there are several specialists in the same place, saving you from visiting someone new. It also means you don't have to do nearly as much paperwork!
Combined Talent
In some cases, dental specialists need to consult with each other about a patient's treatment. For example, maybe a patient needs to undergo oral surgery on K Street before they can receive certain dental work. Having multiple specialists in one practice minimizing miscommunication and helps them work together with the common goal of improving your oral health.
Multispecialty practices give patients access to the best dentists in the area in just one location. They can save you and your family lots of time and money, generally making the whole experience more convenient. In short, visiting one is the best way to meet all of your oral health needs!
About the Practice
Davidson Dental Associates is a multispecialty practice on K Street in downtown Washington, D.C. Drs. Wanda Davidson, Dennis Winson, and Julian Gapud each bring their own unique skills and expertise to the table. Their goal is to provide the most comprehensive care possible so that you don't have to visit a practice you're unfamiliar with. To learn more about how a multispecialty practice can benefit you, visit their website or call 202-775-0022.
Comments Off

on 3 Benefits of Visiting a Multispecialty Dental Practice
No Comments
No comments yet.
RSS feed for comments on this post.
Sorry, the comment form is closed at this time.